Jill and Derick's Wedding by the Numbers
Jill Duggar of 19 Kids and Counting marries Derick Dillard, see what it takes to plan a 19 Kids and Counting wedding by the numbers.
Jill Duggar is used to dealing with large numbers -- her 21-person family spends $3,000 a month on groceries, does 40 loads of laundry a week, has a dining room table that is 18 feet long and eats 16 boxes of cereal! -- and her wedding is no different.
This impressive affair included a guest list in the thousands, and it took a lot of help from their loving community of friends and family (and bulk shopping trips) to pull it off in just three months! So just how big was the first Duggar daughter wedding?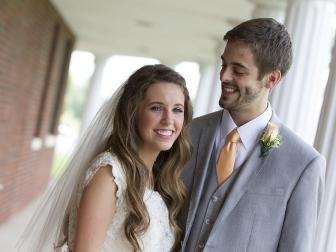 The big day has arrived! Take a look at photos of Jill Duggar and Derick Dillard's special wedding day.
The numbers below illustrate how Jill and Derick made their supersized special day come to life!
Volunteers: 200+
Number of invitees: 3,000
Number of guests that were able to attend: 1,000
Number of months Jill and Derick had to plan the wedding: 3
Number of bridesmaids: 6
Number of groomsmen: 6
Number of flower girls: 4
Number of ring bearers: 4
Number of cups of ice cream prepared for Jill's special request of root beer floats: 3,000
Gallons of pickles: 70 (it's a Duggar thing)
Number of cupcakes: 600
Number of cookies: 4,000
Pounds of popcorn: 75
Amount of money Jim Bob will spend if all his daughters spend the average amount for an American wedding: $200,000
Number of times Jill and Derick kissed before the wedding: 0
Although the task seemed stressful, Jill and Derick remembered the most important part of the day -- spending the rest of their lives with the person they love…oh, and their first kiss!