Joy and Austin's Baby Evelyn Update
The Counting On couple shared details about their new life as a family of four.
The newest Forsyth is in town and she's sparking a bit of a sibling rivalry. Joy and Austin's newborn, Evelyn Mae, is settling in at home, and the couple shared how they and their toddler son, Gideon, are adjusting to the latest family addition.
"Gideon, the first couple of nights that he was home, did not do very good," Joy said. "He was pretty jealous, woke up in the middle of the night screaming and saying, 'No baby, no thank you baby.' And was just, pushing her off my lap. But then that next morning he woke up and he was completely fine and has loved her ever since."
Following her first days at home, Joy and Austin shared that Evelyn is sleeping well throughout the day with a few rough nights, but is growing into a very happy baby.
The Counting On couple first announced they were expecting a baby girl back in March, and she was born on August 21, 2020. Many awaited the new Forsyth's name reveal, which Joy and Austin said they picked after narrowing their choices down to four.
"We like to spend a little bit of time with them," Austin said. "Get to know their personality, get to know them a little bit. The other names on the list just didn't seem like they fit her."
Coupled with the name reveal was an adorable set of the family's first photos.
We extend our best wishes to Joy, Austin, big brother Gideon and baby Evy as they excitedly settle into life as a family of four!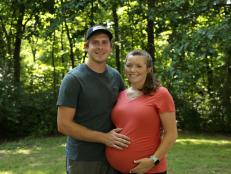 The Counting On couple is expecting a baby girl in August.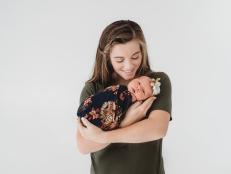 The Counting On couple show off their daughter with new photos and a big announcement.